While the calendar said that it's been fall for a month now, it looks like the weather finally got the memo, which is a shame. A common misconception in the real estate industry is that the fall is not a good time to have your house on the market. In fact, the opposite may be true as sellers are competing with less housing inventory, and the active buyers are more serious than ever. While the market may slow down a bit, now that kids are back in school and everyone is home from summer vacation, circumstances shift from more casual buyer traffic, to more focused buyers who have watched the market all year long and know exactly what they're looking for.
Unfortunately for those buyers, there is still way less than an ideal amount of inventory available. In fact, there has been little to no change in the months of inventory metric in Glen Ellyn, which measures how long it would take for the houses on the market to sell. This number is still at the same four months that it was through June, which is considerably under the six months of inventory which is considered a balanced market for buyers and sellers. The four months of inventory is down 20% from this time a year ago.
The average number of days from listing to contract in Glen Ellyn is down one from the last time we checked at 39 days, down 28% from this time last year. This continues to be great news for sellers, many of whom are getting a contract on their house in under a month. The sweet spot in the market continues to be the $425 – $600 range which is trending at 31 days from listing to contract, two days less than the midyear update and down 38% over this time last year. The under $300 market is down one at 41 days, the $300 – $425 range is down two, at 37 days, while the market over $600,000 is up a bit from 48 to 50 days.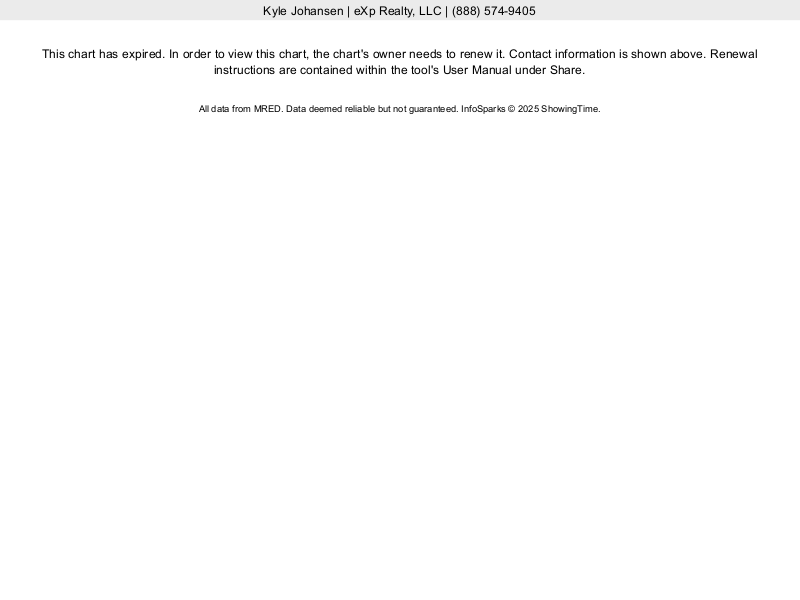 While the average days from listing to contract are closely packed together, the amount of inventory for each market has a much wider range. Each price range has seen a slow and steady drop in inventory the past couple of years, but the under $300 market is especially tight at just 2.1 months after beginning the year at 2.8. Next is the $300 – $425 range at 3.1 months of inventory, down from 3.5 at the start of 2017 and down 18% over last year. The higher priced homes in Glen Ellyn are holding tight with lower than normal inventory levels, but have not changed at all throughout 2017. The $425 – $600 market has stayed at 4.2 months, and houses over $600,000 are sitting 8.1 months. This is the only price range that would be considered a buyer's market.
Since there is a wide range of houses in the over $600,000 range it's always interesting to see how the luxury market shakes out when taking a closer look. Homes price between $600 and $700 are still moving quickly with just 4.4 months of inventory, firmly in the range of a seller's market. However there is a drastic increase in inventory as prices rise above $700,000. Houses in the $700's are at 7.4 months of inventory, the $800's are at 6.6 months, and the $900's are at 6.3 months. Houses priced above $1 million sit on the market for much longer and there is currently 13.6 months of inventory in this price range.
It's always exciting to have a new statistic to play with, and the newest one available from MRED, our local MLS, is the number of showings before a listing receives a contract. Generally speaking if a house has ten showings without receiving a contract it's probably overpriced. If repeated showings do not result in any offers then it's time to reevaluate the market.
The average number of showings before receiving a contract in Glen Ellyn right now is at 17 showings. This number has ranged from 15 to 18 showings since 2015, and was as high as 20 showings in 2014. The median number of showings to contract is also available to look at and the median tells us what the midpoint is. The median number of showings is more reasonable at 12 and that number has stayed pretty consistent over the past few years.
As far as prices go in Glen Ellyn, the median price of sold homes is down ever so slightly to $363,000, 2.8% less than a year ago at this time. However, that number includes condos and townhouses. If we look purely at detached single family homes the number goes up to $416,000 which is down 2.1% over last year. While that may not sound like music to anyone's ears, when we look at average price that number jumps up to $476,359 which is up 1.7% from a year ago.
The bottom line for the Glen Ellyn market is that now is a great time to list your house for sale. With historically low inventory and low days on market, if your home is priced correctly it's going to sell, and sell quickly. For buyers, with less inventory to pick from there has never been a time where you will benefit more from the assistance of a fantastic buyer's agent. With increased competition for the available houses it's all about quickly getting you into the right house and most importantly, having your offer accepted for the right price. If you're considering getting into the market, or have any questions about your house I'd love to help you out no matter where you are in the process.
If you're curious what your home may be worth in this market, you can receive a quick Comparative Market Analysis by clicking here. After receiving your quick CMA, I'll follow up with a more in-depth analysis.